Home » Career/Education, People
Accelerate your Career by Eliminating Complacency
I often get asked about career advancement from colleagues and friends with the emphasis on avoiding complacency. I sometimes frown to see talented individuals with a lot of potential just settle into their job and not have the drive for more. Infact, of most of my colleagues and personal friends, I have hand some of the best success. I generally justify this using a personal-company benefit chart.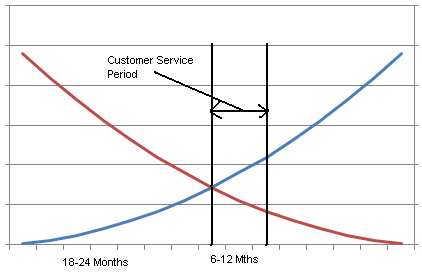 Generally it takes 18-24 months for an employee to become proficient at their job but this can differ based on the role and level within an organization. The red line specifies the employee learning curve. At first there is a high learning curve but as you do the job over and over your curve decreases and skill level increases. The blue line represents the company's benefit in their investment of you. The company's benefit increases with the individual being in the role longer. The point at which the two meet is the breakeven where the company's benefit as well as the employee learning ability net out. It's this point that is one of the most critical in a person's career but they often fail to acknowledge.
Now a lot of people would suggest leaving at this time given they aren't going to benefit much from a skill set perspective. However, leaving the employer at this point isn't something I recommend. I generally invest more time in the role to make a lasting impression and offering superb customer service to my employer while I am proficient at the job. This helps with long term relationships as well as building strong references. Switching jobs too soon can label the person as a "hopper" and often work against the individual. However if you've spent too much time in a role you aren't exploring the full potential of building your skill set.
I've generally spent no more than two and a half years in a role because this not only helps me build my skill set and sets me up for success in other parts of the organization. Furthermore, in today's challenging workforce, diversification is a key success factor for future leaders. Without having a broad background and rooted understand of all the moving parts of company, I myself would hesitate to take on any strategic roles that provide me the opportunity to shape the future for any organization.
Diversify yourself, give yourself the credit to learn more, exploit your abilities and ensure you build healthy strong relationships. If you can affirmatively attest to these key points, then it's time for you to move to your next role.